A delicious brain-healthy Tempeh Green Curry infused with herbs, spices, and a creamy cashew milk. Tempeh can be tricky to work with, but it's such a nutritious food, so it's well worth the challenge!
This recipe was originally presented as a live cooking session for members of our NEURO Academy community. Access many more brain-healthy recipes and take part in our exclusive livestreams at NEUROAcademy.com.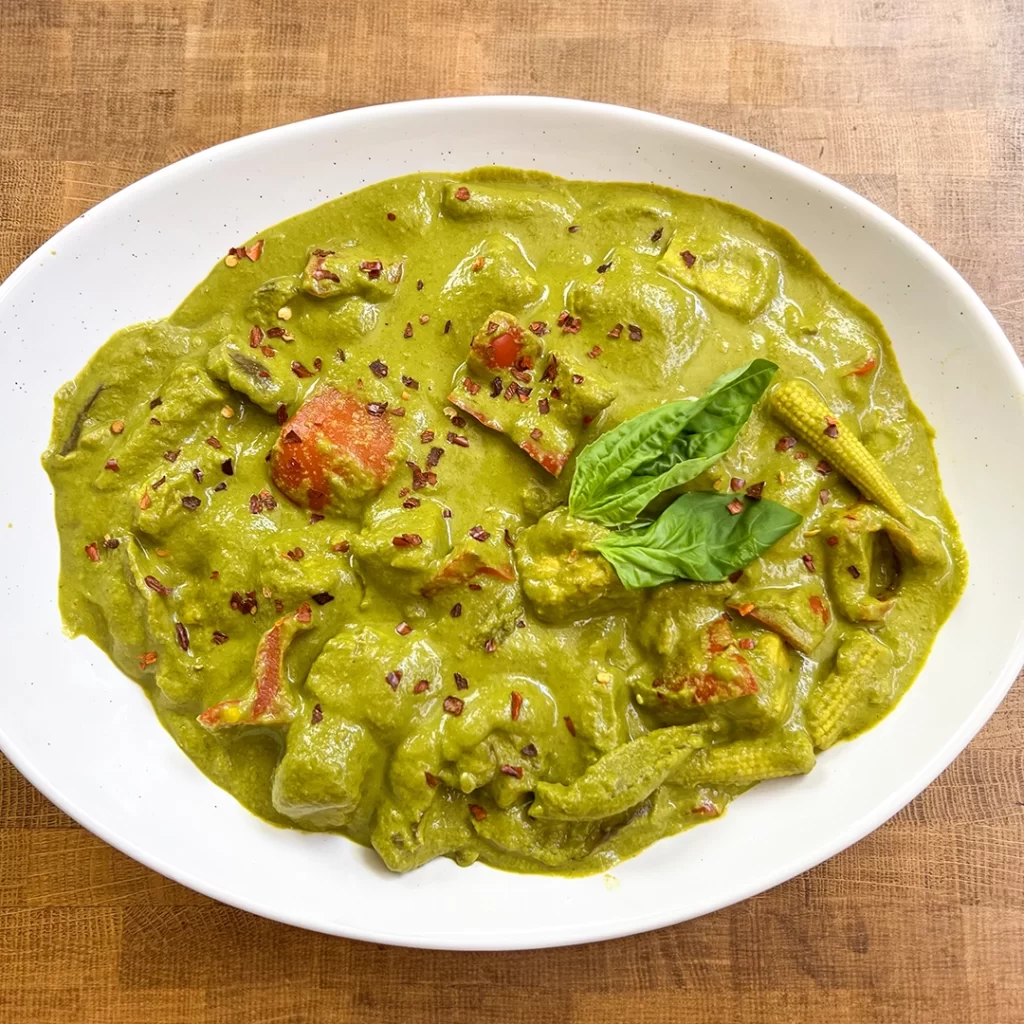 Ingredients
For the curry paste:
1 small bunch of cilantro, stem and leaves 
2 serrano chilis (adjust to your heat tolerance)
1 fresh ginger root
5–6 garlic cloves
½ onion, cut into quarters
1 lemon grass stem (or use ½ cup

(15 grams)

of mint leaves if you can't find any)
A little water to help with blending
For everything else:
1 tempeh block, cubed 
EVOO spray
½ cup

(120ml)

water
1 ½ cups

(350ml)

vegetable broth
1 tsp turmeric
1 tsp cumin
1 tbsp coriander powder
2–3 tbsp liquid aminos
3 tbsp monkfruit sweeteners
1 bell pepper, chopped
2 cups

(250 grams)

mushrooms, chopped
1 15oz

(420 grams)

can of bamboo shoots
½ cup

(60 grams)

raw cashews, soaked in boiling water for at least 30 minutes
1 ½ cup

(350ml)

water (to make cashew milk)
½ cup

(10 grams)

fresh basil leaves
Juice of 1–2 large limes
Brown rice or quinoa, as a side
How to make

our Tempeh Green Curry
Prepare the curry paste by blending all the ingredients into a paste in a small food processor.
Heat a large saucepan over medium heat, add the EVOO, and sauté the tempeh for about 5 minutes with some added water to soften it.
Add the paste and cook for 2 minutes. Add the broth, the spices, the liquid aminos, and sweetener, and stir well.
Then add the vegetables and mushrooms and stir. Cover the pan for 2 minutes while on very low heat to simmer.
Meanwhile, drain the cashews and place in a blender with the basil and water and blend until creamy and smooth. Add this cashew cream and basil to the tempeh mixture and bring to a quick boil.
Add splashes of the vegetable broth during the cooking process as needed. Simmer for 5-7 minutes or until the vegetables are tender. Add more broth if the curry looks dry.
Turn off heat and add lime juice. Scatter shredded basil leaves over the curry and serve.
Serve with brown rice or quinoa.
The brain science of tempeh
Tempeh, which is made of fermented soybeans, offers a range of brain health benefits thanks to its protein-rich nutritional composition. Soy products in general have been associated with improved cognitive function by providing essential nutrients. Tempeh is also rich in vitamin B12, which can support nerve health and cognitive function. Plus, it's fermented, and fermented foods have been found to promote a healthy gut, a factor which has been linked to better brain health.
Get more brain science direct to your email inbox
Sign up for the Brain Docs newsletter for weekly recipes, brain teasers, neuroscience facts, podcast updates, and more — for free!