Strawberries and chia seeds are incredible for brain health, and one of our favorite ways to consume both is in our incredible and easy-to-make Strawberry Rosa Chia Pudding.
There are very few ingredients, and most of them — including frozen strawberries — are foods that can be stored and used in many other recipes for a long time.
This recipe originally appeared in our book, The 30 Day Alzheimer's Solution. Order yourself a copy for many more brain-healthy recipes →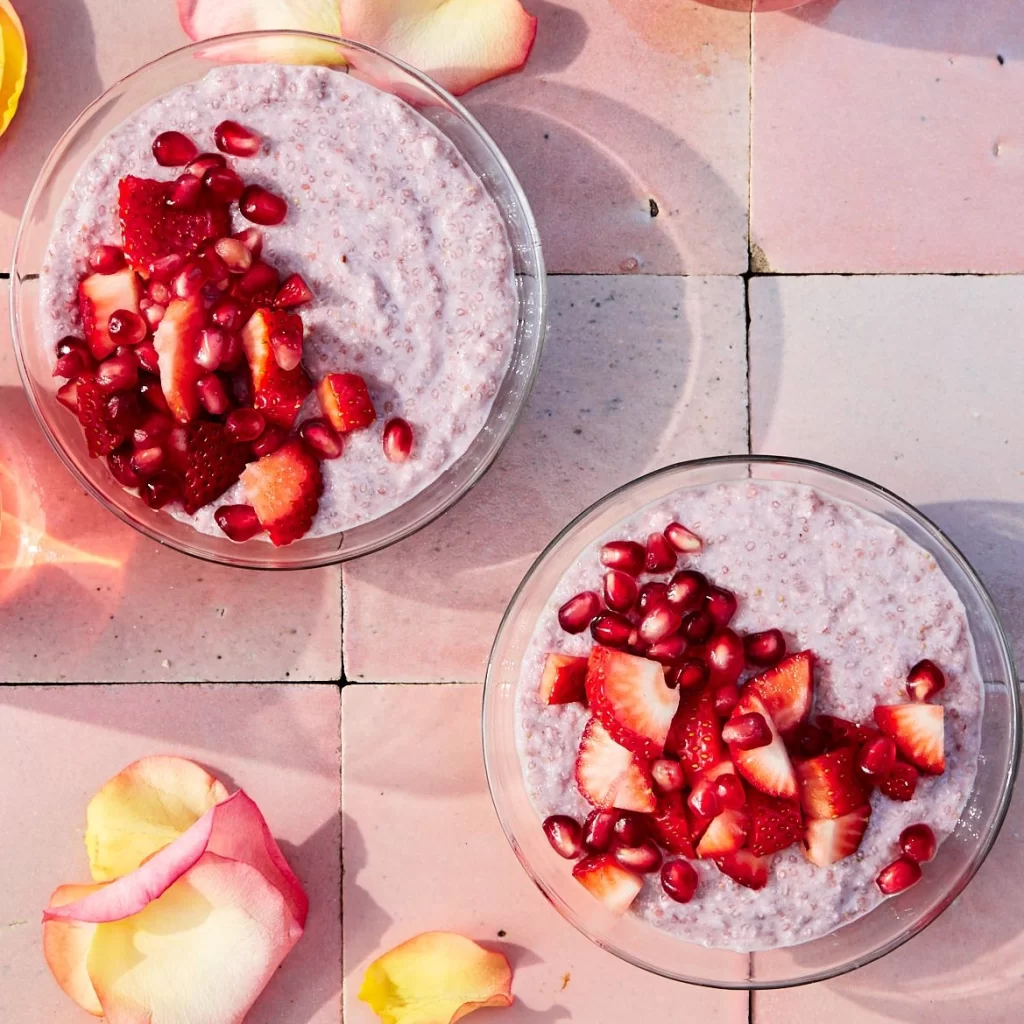 Ingredients
⅔ cup

(140 grams)

hulled and chopped fresh strawberries or chopped frozen strawberries
1 tbsp lemon juice
1 tsp rose water (or to taste)
1 ½ cups

(350ml)

unsweetened cashew milk or other plant milk of choice
3 tbsp monk fruit sweetener (or to taste)
⅓ cup

(50 grams)

raw cashews, soaked in boiling water for at least 30 minutes or in room temperature water overnight
¼ cup

(40 grams)

chia seeds (white chia seeds, if possible)
How to make our Strawberry Rose Chia Pudding
In a blender, mix the strawberries, lemon juice, rosewater, cashew milk, monk fruit sweetener, and cashews until smooth.

Stir in the chia seeds and divide among three small glasses or jars.

Refrigerate until set (about two hours), stirring after about 15 minutes to distribute the chia seeds evenly.

If desired, serve the puddings topped with fresh strawberries and pomegranate seeds, or toasted cashews.

Refrigerate, tightly covered, for up to two days.
The brain science of strawberries and chia
The bright red color of strawberries comes from a type of antioxidant called anthocyanin, which can help combat oxidative stress and inflammation of the brain. Studies such as the Rush Memory and Aging Project and the Nurses' Health Study show that people who consume strawberries tend to have better memory and lower risk of dementia later in life. Strawberries are also rich in flavonoids, which can greatly benefit blood flow in the brain.
Chia seeds are largely made up of omega-3 fatty acids, which are a type of polyunsaturated fat. Our own study, 'The Omega-3 Fatty Acids EPA and DHA in Brain Aging', supports links between dietary omega-3 intake and a reduced risk of cognitive decline and dementia. Omega-3s also contribute to the fluidity of cell membranes, promote neuronal communication, and counteract inflammation. We wrote more about the relationship between brain health and good fats on our blog →
@thebraindocs Strawberry Rose Chia Pudding 🍓 Save 🏷️ and share this recipe and follow for more evidence based information on nutrition and brain health! @thebraindocs Ingredients: - 1/3 cup cashews, soaked in boiling water for 30 mins - 1 1/2 cups of any sugar-free plant milk - 2/3 cup hulled and chopped fresh or frozen strawberries - 1 tbsp lemon juice - 1 tsp rose water - 2-3 tbsp monk fruit sweetener (optional) - 1/4 cup chia seeds - Garnish with more strawberries This recipe and many more are in our book, the 30 Day Alzheimer's Solution. References: PMID: 31847371 PMID: 34321362 #strawberries #strawberry #brainhealth #brain #dementia #cognition #neuro #neurology #neuroscience ♬ original sound - The Brain Docs
Get more brain science direct to your email inbox
Sign up for the Brain Docs newsletter for weekly recipes, brain teasers, neuroscience facts, podcast updates, and more — for free!